I need to start restaurant reviewing again. I am sooo lazy. I've gone to so many new restaurants I wanted to review but haven't. Well lets start with P'Cheen.
So my friends and I found ourselves in the Virginia Highlands last Friday. I had an itch to try something new after being at Fado's countless times, and scoutmob threw this on my radar.
First thing I learned after arriving: You should get a reservation. Instead of being seated, we were directed to a lounge where we could sit and order drinks while we waited for a table. The restaurant is very dimly lit (making it really hard to take photos since I didn't want to use flash, so please forgive the quality). The bar is long and several couples were sitting and enjoying themselves and their company.
P'Cheen would be a good place to take a date, as it does make for a good intimate setting.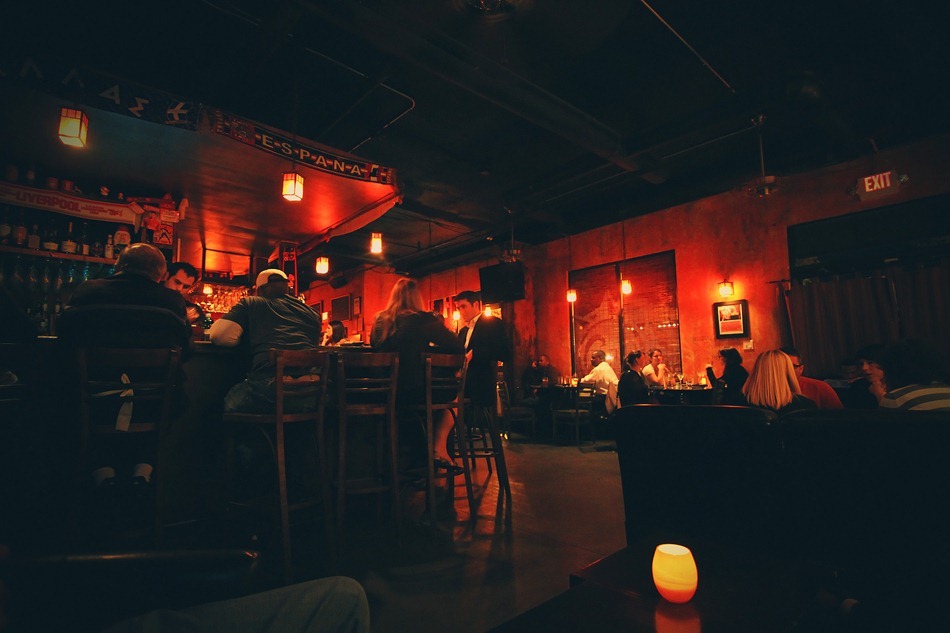 The restaurant is U shaped with a bar in the center and they've got the usual football (non-american) stuff hung everywhere. Yellow lanterns and candles accent most of the corners and art pieces which I found very pleasing to the eye.
We were seated in about 30 minutes, which was fine since half of us didn't get there until about 10 minutes before our table was ready.  All four of us ordered the Fish N' Chips.  I can't say it was bad because after eating Gordon Biersch fish and chips, you know what bad is. I can say you're better off with Fado's version of the classic bar dish but you probably won't be disappointed with this version.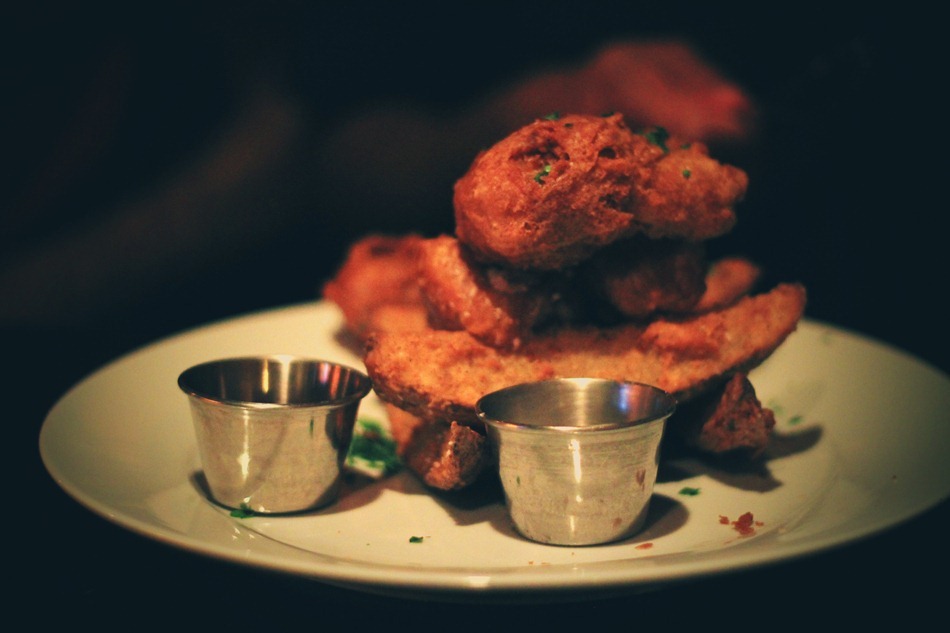 One of us ordered a Golden Monkey, a beer. (not me, I never quite developed a taste for beer).
Apparently the verdict on this beer is that it's terrible. So… don't order this beer. It was too bitter and hoppy or something. Since I don't drink beer (cause I think it tastes awful, not because I have anything against beer) you'll have to trust my compadre on this one.
The shots here are only $3 each. This is definitely a plus since having a few drinks at Fado's can really cost you.
For dessert I had a peanut butter pie. It was small but rich as heck.  I had trouble finishing it.I could almost hear my mother lamenting how it would go straight to my thighs.
The other option was Apple streusel with vanilla ice cream, also decadent.
Out of ten I give P'Cheen a 7. The food was okay-good, but it did take forever to come out. Also a thirty minute wait was a little long for the place but it was the Virginia Highlands. The drinks were reasonably priced and good and unlike some other places, you could actually hear your dinner mates.  It's a good place to unwind if you're not in a hurry.