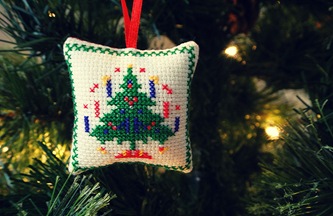 This Christmas was kind of scattered. When my aunt was diagnosed with congestive heart failure, none of us really cared about Christmas or the things around it that much. Between visits to the hospital, we found ourselves celebrating Christmas in patches. My parents came over the weekend before Christmas and opened their gifts from me. I got Christmas gifts from friends randomly throughout these two weeks. My parents came over and gave me their gift on Christmas Eve. When I went to my cousins' house last night to pick her up to head to the hospital, the kids from the family were opening theirs.  Every year we have at least 3-4 Christmas dinners with friends, family and everyone but this year there was none of that.
It was just… different.
One amazing thing was that it snowed down here on Christmas Day.  I got to watch some of the heavy snowfall form inside St. Joseph's ICU. It was swirling around the yellow lights outside. It was also fun (and kinda scary) to drive through the icy slush while the snow came down heavily around my car on our return trip.
It's been a strange holiday season.  Here's hoping for a much better Christmas, next year.