One of my goals this year, after all that's happened, was to spend autumn just exploring Georgia State Parks to absorb the colors. I mean to do it every year, but previously we had so many options during the weekends that we wound up doing something else. Restaurants and larger friend gatherings were the biggest culprits – no longer an option for those being responsible during this pandemic. Hiking has been a self discovery. I find that a balance of physical exertion appropriate for my current body plus the opportunity to photograph and absorb natural beauty is the perfect combination.
Our trip to Vogel State Park took us on three trails – and all of them were spectacularly dressed for fall.
Lake Trahlyta Trail
Lake Trahlyta sits in a valley between a few peaks and its shores were lined with gorgeous color. There's a single bright yellow maple on one side that really struck me with the way it framed the opposite shore. It's an easy trail to walk – good for children and anyone with minor mobility issues. There's also benches all around to simply sit and absorb the splendor.
Lake Trahlyta Waterfall Trail Offshoot
Right off the lake trail is a short set of steps to the waterfall. These falls are created by a manmade dam but they're still pretty spectacular if you don't mind their origin story.
Bear Hair Gap Trail
Walking up the gap trail leads to a lot of autumn scenery – especially if you stop and look closely! Crystal clear rainwater running over amber and rust colored leaves was an excellent repeat sight.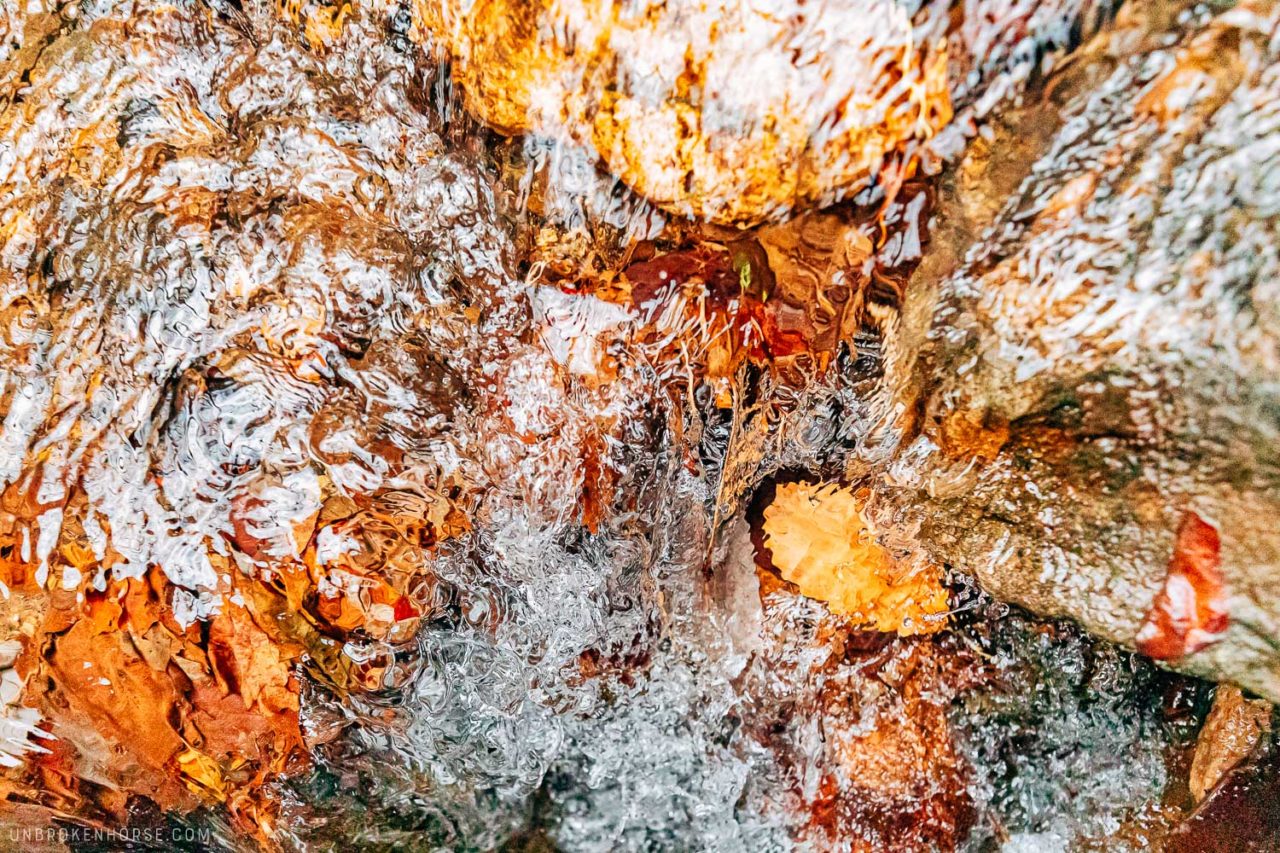 The colors all over the changing trees kept me pausing over and over.
Finally you arrive at the peak and have this vantage point pretty much all to yourself. The lake you were just walking around looks so small, but the colors of the trees framing the lake still give it a grand feeling.
It's an excellent hike, a total of just 6 miles or so, even with the meandering, and I recommend it! Definitely check it out on AllTrails and drop me a photo in the comments if you go!