Jeremy and I did a walking architectural tour of Chicago. Â It fell into the list of favorite things about Chicago!
We had an excellent tour guide who full of surprises (like picking up conversation suddenly in French with passerby!). If you're in Chicago and have two hours to spare, definitely look up Hillary and her company: Inside Chicago Walking Tours.
The tour met at the old Sears tower, and our first stop was right next door. I had already been admiring the top of the building. Looking up is one of my favorite things to do in a city! This building is known just as 311 South Wacker and is home to a property management company but it houses an unexpected surprise inside.
Going inside exposes you to a beautifully architected interior with Grecian marble-like pillars and a large Neptunian figure reflecting the water-centric spirit of Chicago.
Looking up from the base of the statue gives a view that's startlingly contrasting: an old-world style figure & columns living under the shadow of a modern skyscraper.
Our next stop was an Art Deco styled lobby. Jeremy geeked out a little bit in here.
There's something mystical about the owl that seems to be ever-present in the art deco style. The owl is either a symbol of the Illuminati or a symbol of wisdom and transcendence.
Outside all these buildings, the streets of Chicago are lined with seemingly endless opportunities to step inside and see something spectacular. The streets are full of people, cars and dogs! This photograph, unexpectedly photo bombed by a taxi, might be my favorite picture from the trip. I was trying to catch the clock tower down the street as I crossed the road.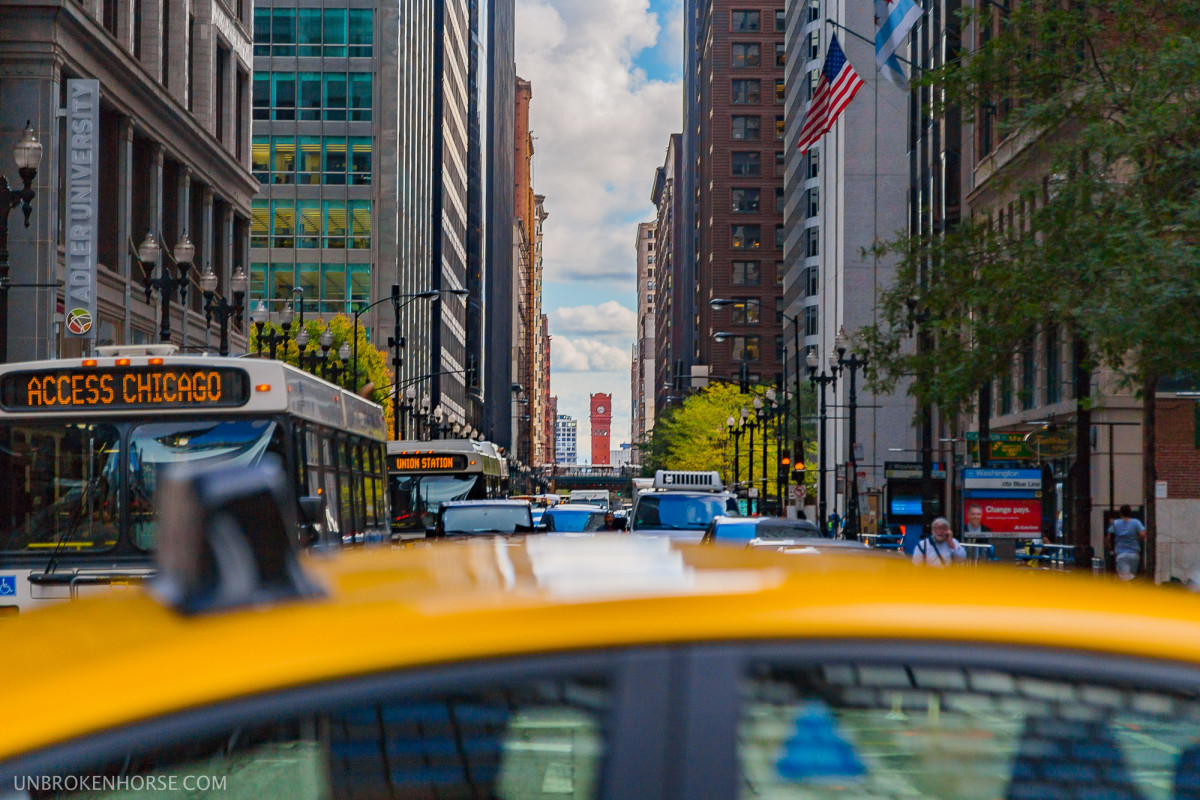 The exteriors of buildings varied greatly and reflected eras of back and forth between trust in banks, the populous, and free commerce.
Looking up at this building was trippy, and it looked like it was leaning over you.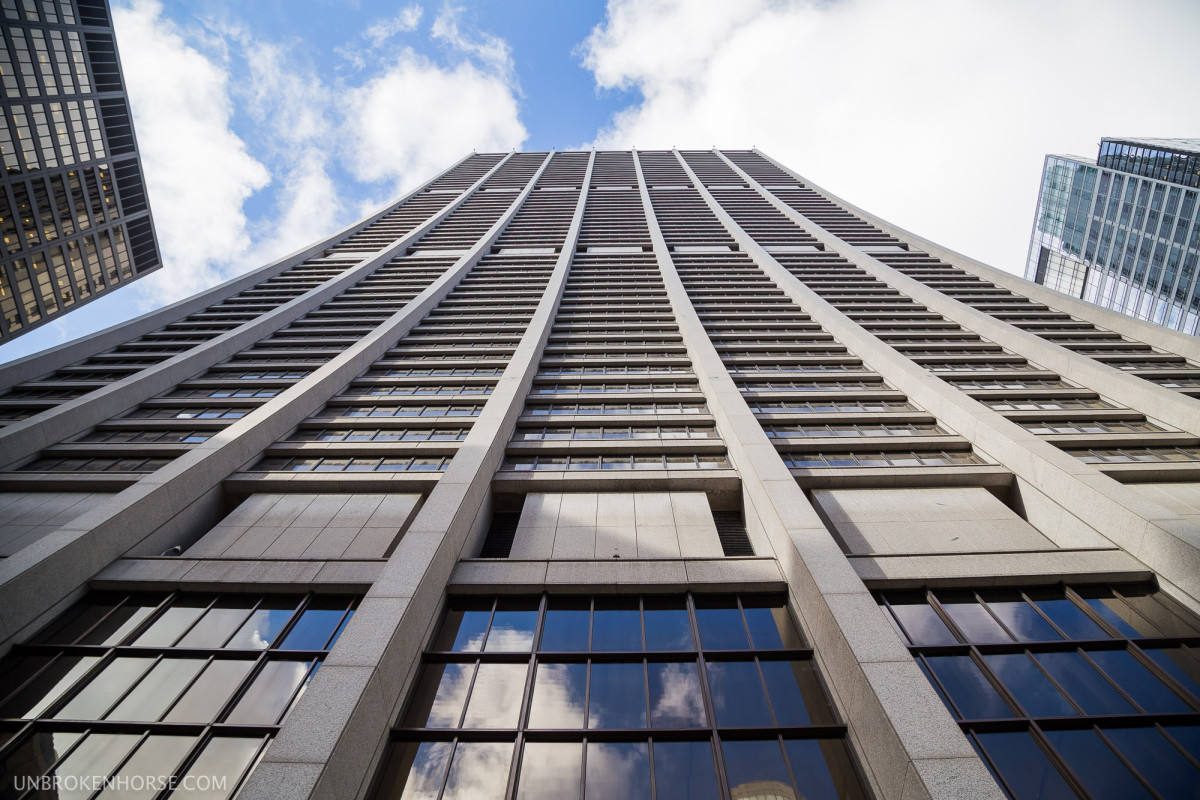 Our next stop was the Rookery: Â a building Frank Lloyd Wright was commissioned to update. The golds and whites and somewhat futuristic yet art nouveau style details made for an enjoyable visual experience.
Wouldn't this room just be great for a mid-century/art nouveau fusion wedding?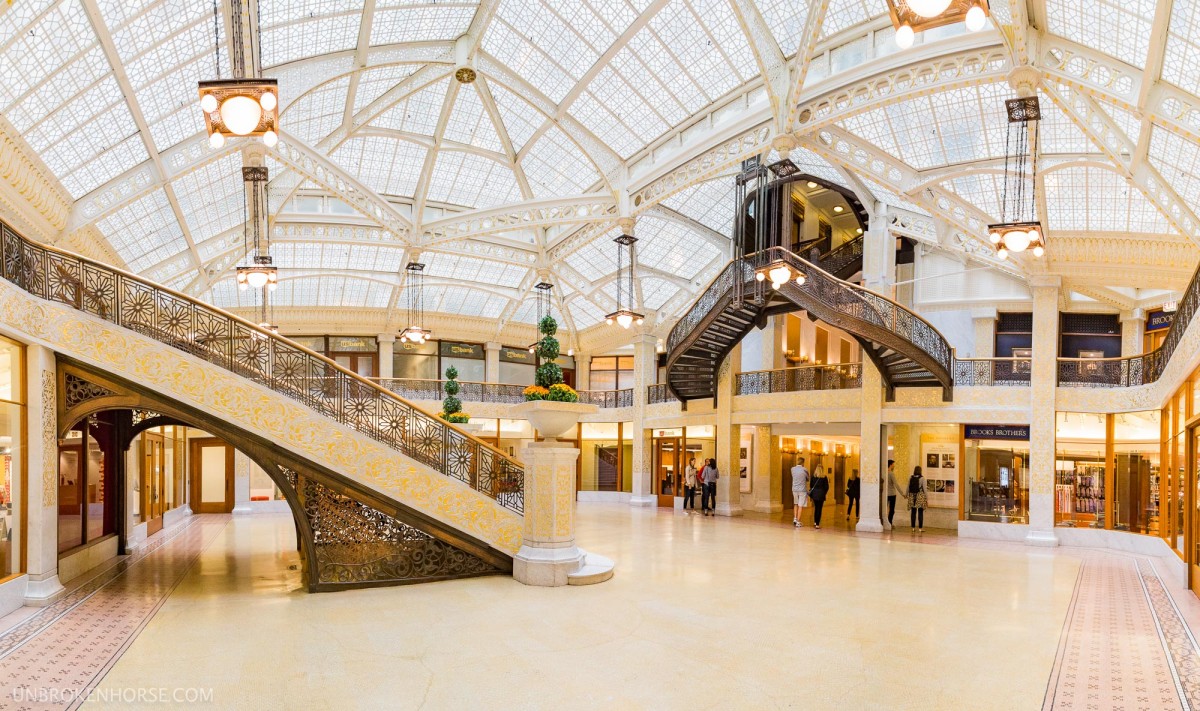 After the Rookery, we took a long walk to our next location. Â Here're a few more outdoor scenes we saw while walking between each interior stop.
Our last stop was the Chicago Cultural Center. It was once the Chicago Public Library but has since been turned into space the citizens of Chicago can enjoy.
A talk was being held the hour we arrived so we were only able to experience a single dome, but it was a masterpiece!
If this post hasn't convinced you to spend a weekend in Chicago, watch for the next ones! Also when we booked, the flights were only $80 round trip. I looked at flight tickets yesterday (10/5/2015) and Spirit was offering tickets for $87 RT. Think about it! :)